Class of 2000
Magistrate, Lexington County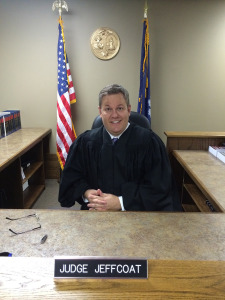 Very few second year law students get to work a high profile case that has them flying out after class on Wednesday, spending the weekend interviewing claimants in a federal lawsuit, then returning home just in time for Monday classes.
"I really enjoyed the fact that I was doing something with the law as well as helping people," he says.
But Judge Brian Jeffcoat did just that when he volunteered to help sign up farmers for a class action civil rights lawsuit against the US Department of Agriculture through the University of South Carolina School of Law Pro Bono Program.
"Through the Pro Bono Program, I was able to get directly involved in law practice as a student," Judge Jeffcoat says. "I worked for lead counsel on the Pigford v. Glickman case." "My task was to go around the southern states and talk to African-American farmers and their families." "We would then help them file their claims." The work Brian did was part of a settlement of allegations of racial discrimination in the allocation of farm loans between 1981 and 1996.
"I really enjoyed the fact that I was doing something with the law as well as helping people," he says.
Judge Jeffcoat's interest in helping others through volunteer work was encouraged by his parents, and getting involved in the Pro Bono Program at the School of Law was a natural fit. "When you're working really hard in school, it's good to give back, too," he says. "It's nice to spend some time thinking about someone other than yourself and the pressures of law school."
In recognition of his pro bono work, Judge Jeffcoat was a recipient of the Susan McCrary Scholarship. A member of his class, McCrary was killed in an automobile accident during her second year of law school. The award is presented in her name to a rising third-year student who has actively participated in student volunteer organizations while in law school. "Volunteering with the Pro Bono Program and working with Pam Robinson are some of my fondest memories of law school," he says.
Judge Jeffcoat continues giving back in his work as a magistrate judge in Lexington County. "Part of the reason I enjoy my job is that it gives me the opportunity to help people if they need it," he says. He also assists with other volunteer programs when his schedule allows. "I feel like, as attorneys, we're blessed with a lot, and we should give back when we can."