Class of 2007
Attorney, Digna Ochoa Center for Immigration Legal Assistance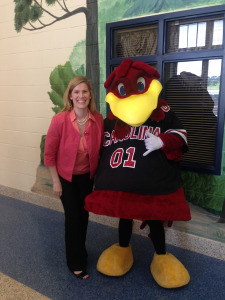 Olivia Jones calls the non-profit legal field the best of both worlds. "It's probably one of the few legal careers where you can have a good work/life balance, and you're helping people in your community," she says. "It's a win for you and a win for the place where you live."
When Jones began her studies at the University of South Carolina School of Law, she was interested in finding a way to combine her bilingual skills with the practice of law. But without guidance from a relative or mentor in the law profession, she wasn't sure how to do that. Advice that she simply look up bilingual attorneys in the phone book and call to ask if they needed any help was offered, but Jones says that wasn't how she wanted to get started in the legal profession.Enter Pam Robinson and the Pro Bono Program.
"I found out about a community tax help clinic through the Pro Bono Program that spent one day working just with Spanish speakers. I enjoyed participating in that because it combined the things I was interested in," Jones says.
I discovered that I actually was having fun doing this type of work. More than anything else, the Pro Bono Program helped me figure out my career path.
She realized this meant there were other options for her besides working for large firms, and there were ways she would be able to combine a desire to help people, speak Spanish and practice law. "I discovered that I actually was having fun doing this type of work. More than anything else, the Pro Bono Program helped me figure out my career path."
Jones enjoyed the Pro Bono Program so much that by the time she was a 3L, she was president of the Pro Bono Board. The lasting relationships she made through the program included Glenda Bunce, an attorney with Digna Ochoa Center for Immigration Legal Assistance, a firm that helps families with citizenship, visas and green cards. "We worked together on the Spanish tax help clinic and stayed in touch over the next nine or 10 years. Today, I'm working for her."
In addition to her work at Digna Ochoa, Jones also is a member of the Public Services Committee of the Richland County Bar, which puts on a legal clinic at Transitions, Columbia's homeless shelter. "There are so many lawyers in Columbia — statewide even — who give their time to this legal clinic, and I think Pam must have had a hand in that," Jones says. "She shows you while you're in law school that you can find opportunities for service, that they're fun and that they really can make a difference in someone's life."
Unlike a lot of other law schools, USC Law does not require students to complete a certain number of pro bono hours. "Instead, students working with USC's Pro Bono Program are actually interested in public work or in working with Pam," Jones says. "She makes her projects so much fun that you want to be a part of them. I think there would be something missing from law students' experience if Pam and the Pro Bono Program were not there."