…to everyone who donated tuna and peanut butter for the Fall Best Class Food Drive. The Class of 2020 is to be congratulated for bringing in the most "poundage".  "Poundage" in the law school is calculated as actual weight plus 1lb. for every dollar!  With a total of 4, 808 "pounds" we made a great difference and helped Harvest Hope Food Bank address food insecurity in SC.
It may be difficult to believe but all this peanut butter will be distributed within a week! The demand is high!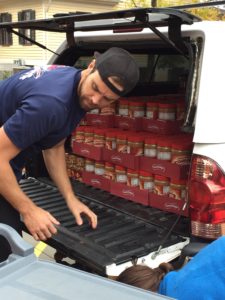 A special thanks to Patty Morr, Maura Ashton, and the other members of the Pro Bono Board who helped collect money, as well as weigh and load the food. We really hope that Professor Stoughton's classes are enjoying no cold calling!  Peanut butter works!