Following a 20 year tradition, this year will be different but we still will prepare and file state and federal tax returns for low income people.  VITA is the IRS program we implement. Plans are being made to do things differently this year! A more virtual process with an in person intake! Details and instructions are being worked out now but in the meantime you can get certified.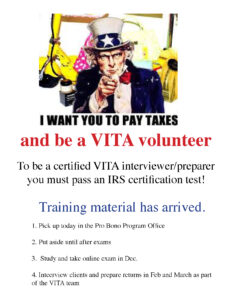 Good old-fashioned copies of the training resource material have arrived.  There are two levels of certification- Intake/interviewer and preparer.  All information and the tests are online.  Note; the 2020 certification tests will be available very soon!
How do you get started? Contact the Pro Bono Program today to be placed on the distribution list and to receive the certification link!
Even if you have no interest in becoming a tax lawyer, you will be interviewing clients and this year more than ever, interviewing and problem solving will be key!Pet Food Drive Flyer